Stable ranging is an explosion waiting to happen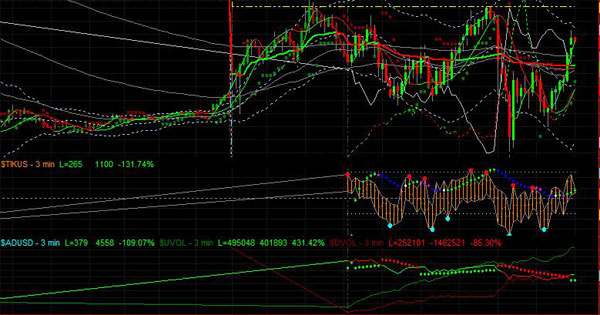 Here are a few highlights of the abundant practical advice on technical analysis he gives in his book…
This article continues on from the first article: Keys to Improving Your Investment Profits
Trends: Correctly judging these – the ones to ride with, and the ones that suggest they are reversing direction – is of major importance. Consistency is one of the key characteristics to look for, and one of the most reliable indications that values will continue trending in the same direction.
It isn't easy to ascertain consistency. "No two trends will be the same, just as no two pieces of music are the same. However, we can recognize a rhythm when we hear it. And with some practice we can identify a consistent trend when we see one," Eoin writes.
Consistency characteristics to look for include:
► A progression of higher reaction lows;
► A progression of higher rally highs;
► Each of the congestion area trading ranges is relatively similar-sized;
► The trading ranges go on for approximately the same amount of time;
► The "steps" formed one above another.
A break in consistency is a warning signal of change in relationship between supply and demand. An inconsistency may not be followed immediately by a reversal in trend, but is often a penultimate high or low.
Break-outs: When a price has been fluctuating within a stable range for a long time, it's "an explosion waiting to happen… The longer a range persists, the more powerful the ensuing break-out is likely to be."
And when it does break out strongly to the upside – the "first step above the base" — that is one of the most reliable patterns indicating that the price will continue to rise. However, "there is a better-than-even chance that it will come back and range about the base for a period of time."
A break-out does not change the fundamentals. It changes the perception of the fundamentals.
The price action of an upward break makes investors more interested in the bullish view… "perceptions of the crowd towards the market improve" and "the bearish case will now have fewer adherents."
Where there is a downward break, the reverse happens.
A failed break-out, especially when a price falls back sharply into its range, often results in a successful break-out in the opposite direction. That's why "failed break-outs are a potential cause of concern to the prevailing trend."
Trend-ending: This can be identified if a price plunges below its long-term moving average (not just dipping below it), then when it recovers, fails to push back above the moving average on a sustained basis.
An acceleration which follows an already well-developed trend is an ending characteristic. But it should not be confused with an acceleration out of a lengthy trading range.
Watch for any "key day reversal," which Eoin describes as "a two-candle pattern where prices make a new low for the move, but reverse and close above the high of the previous day," in the case of an upside signal, and a similar pattern where prices "make a new high for the move, but reverse and close below the low of the previous day" for a downside warning.
But to be significant, a key day reversal must be a large one. It is not a necessary condition for signalling a market top or bottom, but they do tend to foretell at least a pause in trend.