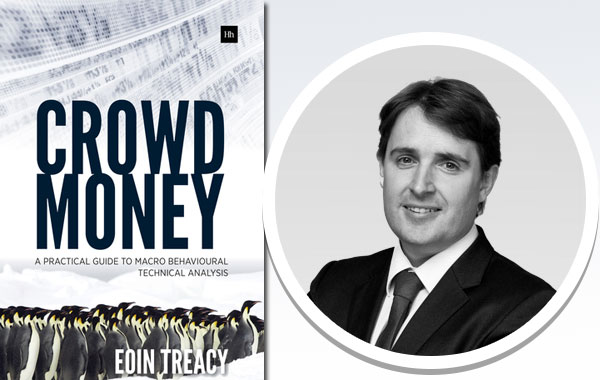 Crowd Money: A Practical Guide to Macro Behavioural Technical Analysis* is, in my opinion, the best new book on investing to be written for many years.
It's by Eoin Treacy, who partners the famous London-based technical analyst David Fuller, editor/publisher of the long-established newsletter Fullermoney, and a longtime friend. He first taught me charting, the most useful of several tools I use when analyzing prospective investments.
The new book reveals the methodology they have used successfully for decades — long before efficient market theory, the basis of investment education throughout the academic world, became discredited by reality.
Behavioural analysis works, because markets are made by human beings. They aren't environments governed by fixed properties such as those of tangibles like gases or metals. They are shaped by human assumptions about what are realities, expectations about the future, requirements of themselves and/or clients, and assessments of risk and potential return.
The key to profitable investing lies in correctly judging how investors whose actions shape a market are likely to behave. That can best be done by analyzing how investors have behaved in the past and are currently behaving, to see if there are patterns that will reveal how they are likely to act in future.
Sceptics don't believe that can be learned from charts, that charts can tell you anything useful. I believe they can… although charts suggest probabilities, never certainties. And reading them is more an art shaped by experience than a science. Of course, they are only one of several factors to consider when making investment decisions.
Macro behavioural technical analysis is not about short-term stockpicking, but about identifying the major areas where the best investment opportunities are likely to be. It's about focusing on emerging trends and how they are shaped by the ever-changing balance between supply and demand of investor interest which drives values up or down – a dynamic captured visually in charts.
"The big trends – up and down – are all about the crowd falling in love with a market story, which they extrapolate to unrealistic levels, ensuring that they subsequently fall out of love with the same instrument when it no longer performs," David Fuller says in his foreword to the book.
"At the time of writing (mid-2013), powerful currents are coalescing to form the basis of a new secular bull market in equities," Eoin Treacy writes.
"The greatest urbanization in history, the greatest golden age of technological development ever, the revolution in unconventional energy supplies, are three major interlocking themes that have the capacity to inspire investor interest for decades to come.
"The challenge in the short- to medium-term is how the massive amount of debt built up by Western governments is going to be worked through.
"These are important issues where investors will make and lose fortunes over the coming decades. It will be important to be on the right side of these moves and to maintain emotional equilibrium as they progress."
Although bull markets are grounded in sound fundamentals and abundant liquidity, their determining characteristic is investors' behaviour, producing favourable changes in the supply/demand balance. The charts will tell you that.
"Price action is the ultimate reality check," Eoin says. "I never make an investment or trading decision without looking at a chart of price action first." And when you look at a chart, "your first impression is almost always your best."
more to follow
CopyRight – OnTarget 2013 by Martin Spring