Business growth expert Annette Du Bois's new book Big Profit Thinking To Stop Your Small Business Sinking: Powerful Strategies To Accelerate Your Business Success will allow you to unlock the true potential in your business using powerful, practical and proven strategies for success.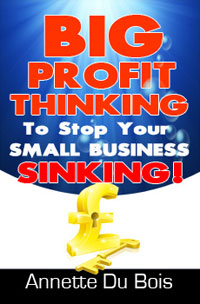 This book will help business owners with redirected recession-limiting focus and present short-term and long-term strategies and high-performance business tactics for experiencing significant yield and enhanced potential. It offers serious and meaningful solutions to grow more success, more profit, and gain more results from the same efforts.
To those serious about achieving greater results, this book will be the ultimate guide and roadmap to growing business. If you are willing to explore the strategies and tips and re-align old thinking patterns and ideas in favour of a new paradigm then your business will never be the same again.
Read the book today and transform your business tomorrow!
Book Information
Big Profit Thinking To Stop Your Small Business Sinking is available from Fox House Publishing.co.uk, Amazon Kindle