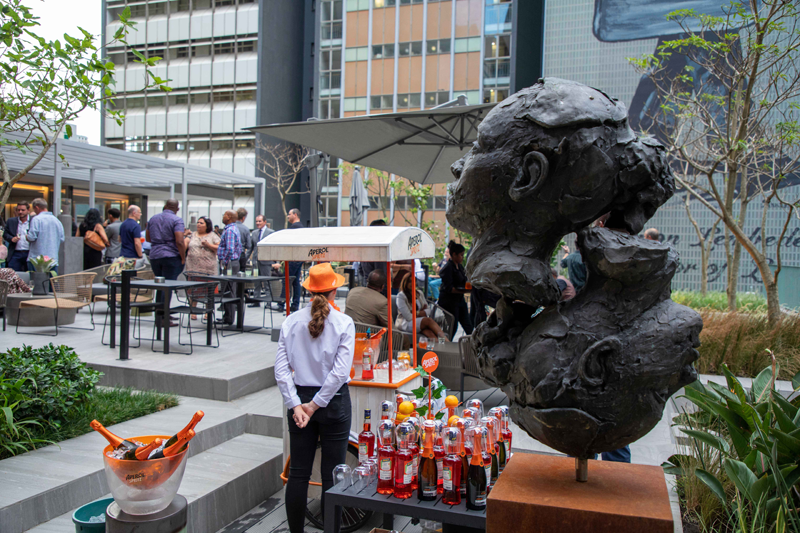 Durban: Chambers Club, a members' club for South Africa and Africa's business and professional community located in the iconic Professional Quarter in the heart of the city, launches formally recently.
Chambers Club, Africa's newest members' club launches in Durban's Professional Quarter
Chambers Club is located within the beautiful former Nedbank Building designed by Norman Eaton in central Durban which has been transformed into a professional quarter for the legal fraternity, business community, entrepreneurs and creatives as part of an extensive city-wide project by the visionary team from Urban Lime. They specialise in re-imagining commercial property, and breathing new life into office, commercial, retail and business nodes throughout South African cities.
"Chambers Club is an incredible new space in the Durban CBD. It has been beautifully- designed with dining, meeting and conference facilities. By day it is a private members-only club, and at night and over weekends, it opens up to all people of Durban as well as to our domestic and national visitors. We are especially proud of our rooftop garden which offers a unique urban experience quite unrivalled in South Africa and comparable to anything available in New York, London and top cities around the world," said Jonny Friedman CEO of Urban Lime.
As part of the rejuvenation initiative, the launch of the luxurious bespoke facility in Durban, envisioned by world-class designer Robert Sherwood is a stone's throw away from the law courts in Durban. The intention is for legal practioners and businesspeople to use their facilities: meeting rooms, interview rooms, board rooms, restaurant, bar, lounge, parking facilities and cloakroom. It is perfect for professionals and those looking for an elegant, safe quiet place to meet, work and dine in the middle of town.
Chambers Club is membership-based, with the public welcome after hours and on weekends. It offers a business class-type lounge in the centre of the city comprising a 100-seater restaurant open daily from breakfast to supper with light meals in-between prepared by top South African chefs, Andrew and Shael Mead, who have returned from working at top establishments in London. This sits alongside a marvellous cocktail bar and a spacious open-air lounge. Designed with the business leader in mind, the space boasts WiFi throughout, has news channels on carefully positioned big screens, and has an abundance of plug points to anchor devices.
The Professional Quarter will further be enhanced in the coming weeks through the partial pedestrianisation of Durban Club Place. The ground floor of the Professional Quarter will have an array of carefully selected retailers. Upstairs there are long-term and short-term office working spaces available to rent.
One of the special features of the Chambers Club is a beautiful rooftop garden which overlooks the city – with commissioned sculptures, a water feature, quinine trees, indigenous grasses and aloes. This carefully created space is an eventual realisation of what Norman Eaton, the famed architect, originally wished for. It is ideal for an after-work alfresco sundowner to meet colleagues and friends before heading home.
Known for its iconic vintage grass-green ceramic tiled frontage, the building is slightly set back from street level and has been part of the city geography for generations. The instantly recognisable green tile motif is included in the design of the Club throughout on its wallpaper and interior glass windows. It has been thoughtfully repurposed and conserved and has been given a new lease of life.
The precinct is known for its permanent public art, depicting the late Anton Lembede entitled Anton, Bachelor of Law, by Durban artist Sakhile Mhlongo, which is the largest privately funded public art piece in KZN and one of the largest in the country, covering just under 600sqm.
Membership fees range from R500 a month / R5000 a year upwards. For more information, visit www.chambersclub.co.za (launching soon), +27 31 015 55 55, reservations@chambersclub.co.za