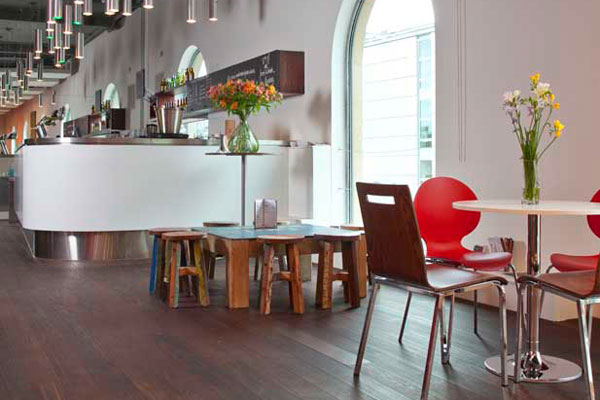 Kebony AS, the innovative company offering sustainable alternatives to tropical hardwoods, has won the 2013 Ethical Corporation Responsible Business Award for small and medium enterprises.
The Ethical Corporation awards recognise and celebrate the success of the world's leaders in responsible business excellence from the leaders in sustainability and corporate responsibility. The small and medium enterprises accolade has been awarded to Kebony which has demonstrated the environmental benefit of its products and the strength of the company's business model, both key criteria in the awards judging process.
Kebony has developed a 'new wood' which is a sustainable alternative to tropical hardwood and toxic-treated wood. Through a revolutionary and environmentally-friendly process called 'Kebonization', sustainable softwood species are treated with an advanced alcohol under conditions of heat and pressure so that they permanently transformed to adopt comparable, and often superior, aesthetical and physical properties to that of tropical rainforest timber. The end product is durable, attractive, low maintenance, environmentally friendly and able to withstand harsh climates. Kebony's wood is fully compliant with the EU Timber Legislation that bans illegal timber and timber products from entering the market.
This new wood has been used in a number of internationally renowned projects, most recently Kebony was the material of choice for the new Mary Rose museum, which opened in May 2013. Kebony wood was used in the decking and cladding for the outside of the new museum building; its durability makes it the perfect choice for this new sea-front landmark. Other recent high-profile projects include the Oslo Boathouse, the Hackney Picturehouse and London's newest architectural landmark KREOD which currently forms the centrepiece of Peninsula Square right outside the O₂Arena.
Kebony's international network of clients has allowed the company to make a substantial impact on the industry and demonstrates that there is a market for an environmentally-friendly, durable and aesthetic wood product. Kebony is fast becoming the material of choice for leading architects, designers, contractors and developers looking for high quality, durable and environmentally-friendly products. It is used in applications including decking, flooring, cladding, roofing, windows, furniture and other construction materials. The wood champions new possibilities for the use of timber in construction and design, particularly following the EU Timber Legislation implemented in March 2013 which forces the wood industry to turn to more environmentally friendly alternatives to tropical hardwood.
Jan Terje Nielsen, Marketing Director at Kebony comments: "Kebony is thrilled to be recognised for its innovation, commercial growth and environmental benefit by the Ethical Corporate Awards. Kebony seeks to both protect and take advantage of the globe's natural resources; by replacing tropical hardwood with a sustainable alternative we divert demand for tropical forests"."