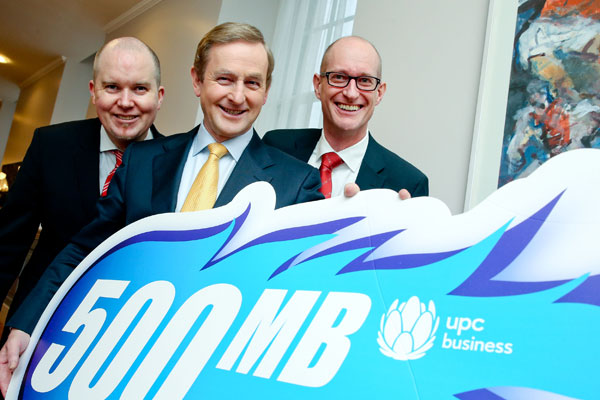 An Taoiseach, Enda Kenny T.D. this week launched UPC's new 500 Mbps superfast broadband service which will be offered to businesses across the country, more than doubling currently available speed offerings, making a significant contribution to regional economic development and powering the digital economy.
First made available in Dublin
UPC's unprecedented new 500 Mbps service will first be made available in Dublin, Waterford and Galway and will then be rolled out to other towns and cities in Ireland.
An Taoiseach, Enda Kenny T.D. said, "The Government has made jobs the top priority.  We are supporting businesses to grow, invest and add jobs.  Day by day we are improving our attractiveness as a location for inward investment.  This announcement by UPC will make a very welcome contribution to our reputation for broadband capacity and to our overall economic recovery.  It will support a key aim in the Government's Action Plan for Jobs of increasing the number of businesses trading online so that Irish companies can grow new business at home and abroad and ultimately create more jobs."
UPC Ireland CEO, Magnus Ternsjö said, "We have invested over half a billion euro upgrading our fibre power network to world class standards and are constantly improving our product offerings and affordability of our digital services for small and larger business customers as well as enterprises.  This is contributing effectively to business growth, competitiveness and national economic progress.
Today's announcement demonstrates UPC's network capability and our drive for innovation and provides an added incentive for multinational companies considering Ireland for potential investment.  Current UPC Business customers will also be able to upgrade to the new speed when released in their region.