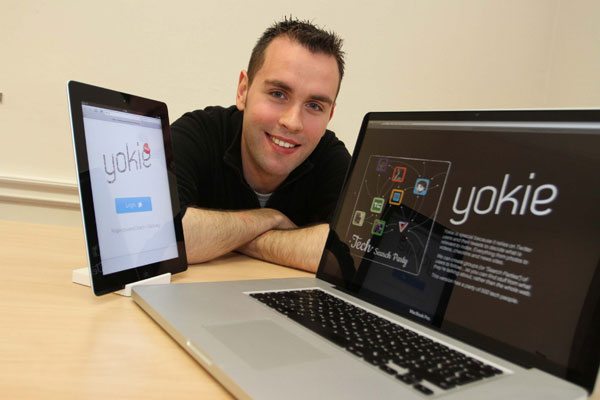 9 new ventures to compete for a €35,000 prize fund
University College Dublin (UCD) will showcase the latest high-tech and knowledge-intensive ventures emerging from UCD research programmes during the annual NovaUCD start-up awards evening next week.
Among the 9 ventures and 22 individuals competing for a share in a €35,000 prize fund are AB Power and Yokie.
AB Power is pioneering efficient, safe and sustainable hydrogen-based energy storage and release technology to power future environmentally friendly vehicles. The promoters of AB Power are Dr Christian Grave and Dr Andrew Phillips, UCD School of Chemistry and Chemical Biology.
Yokie is developing a people-powered search and discovery engine that harnesses the fast, rich and social content on real-time web services such as Twitter. The promoter of Yokie is Owen Phelan a PhD student in UCD's School of Computer Science and Informatics and the CLARITY Centre for Sensor Web Technologies.
[Each of the new ventures taking part in the showcase are profiled below.]
The NovaUCD 2012 Campus Company Development Programme (CCDP) Awards Evening takes place on Tuesday, 20 November in the William Jefferson Clinton Auditorium, UCD, Belfield, Dublin 4. From 4:30 pm attendees will have the opportunity to meet with and talk to the promoters during the new ventures showcase. The main awards event commences at 5:45 pm.
Dr Johnny Ryan, Chief Innovation Officer, Irish Times will be the guest speaker at the awards evening.
The aim of this key UCD new venture support programme, is to UCD assist academic and research entrepreneurs in the establishment and development of new high-tech ventures to commercialise the output of their research activities. The programme assists participants in defining, developing and transforming their innovative ideas into sound and commercially feasible new enterprises and in preparing detailed business plans.
During the main awards event each of the participants on this year's programme will deliver a short 'elevator pitch'. Three short-listed ventures, selected by an independent evaluation panel, will then present their business plans in more detail to an audience comprising members of Ireland's venture capital, research, state agencies, industry and business communities.
Speaking in advance of the Awards evening Professor Peter Clinch, UCD Vice-President for Innovation said, "Innovation is the third pillar of UCD's core mission. Two of UCD's key innovation themes are putting knowledge to work and growing and supporting new business. Through the NovaUCD Campus Company Development Programme we are supporting our researchers in a process to put their knowledge to work by establishing new high-tech ventures, to translate the innovative ideas arising from their research programmes into value-added products and services."
The overall winner will be presented with the NovaUCD 2012 Start-Up Award, a cheque for €5,000 and six-months free desk space at NovaUCD. The two other finalists will receive runner-up awards, cheques for €3,000 and €2,000 respectively along with six-months free desk space at NovaUCD.
In addition the overall winner will receive €6,000 worth of consultancy services from Deloitte; €3,000 worth of consultancy services from Arthur Cox; €1,500 worth of consultancy services from Aristo and €1,000 worth of financial services from Delaney Financial Consultancy and NewMarket Partnership. The AIB Seed Capital Fund will also provide an investor ready assessment of the overall winner. The winner will also receive a year's free subscription to the AccountsIQ software which allows SMEs to manage their entire accounting requirements via the internet.
Arthur Cox will also be providing €2,000 and €1,000 worth of consultancy services respectively to the two runners-up.
All are welcome to attend the NovaUCD 2012 Campus Company Development Programme Awards Evening.