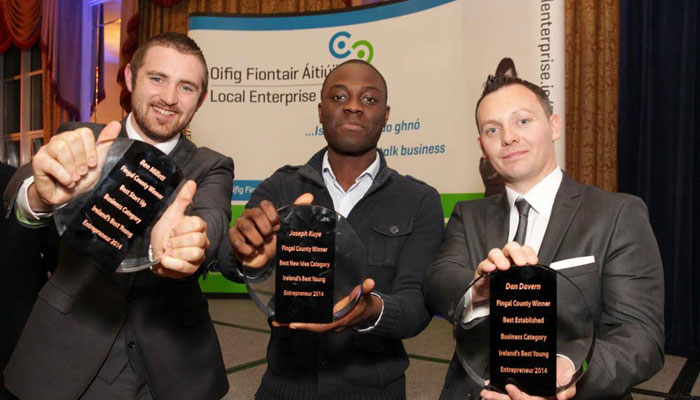 The Local Enterprise Office in Fingal has predicted that 75 new jobs will be created by award-winning small businesses in the region.
The announcement was made during Fingal Enterprise Week, as finalists in the Fingal Enterprise Awards and the inaugural "Best Young Entrepreneur" competition received awards for enterprise in Malahide this week.
In total, seventeen businesses were recognised at the 'Success Leaves Clues' networking event, which took place at the Grand Hotel, Malahide, with this year's Fingal Enterprise Award winner as well as the three category winners in the County's 'Best Young Entrepreneur' competition revealed.
The 2014 Fingal Enterprise Award recipient, selected from four finalists, is 'Motorcheck.ie', an online supplier of automotive data to consumers and motor related industries, based in Swords, Co. Dublin. Managing Director, Michael Rochford was presented with the award.
In the Fingal County Finals of the 'Ireland's Best Young Entrepreneur' competition, three companies have been selected from a panel of 14 finalists with Ben Millett (25) of 'Stayhold', a start-up offering a solution for carrying goods safely in the car boot, revealed as Fingal's 'Best Young Entrepreneur' as well as receiving the accolade for 'Best StartUp Business'. Jospeh Kuye (19) of 'Touchtech Payments', an M-Commerce payment processor, was awarded 'Best New Idea' while Dan Davern (28) owner of 'DX2 Training', an online learning management system, won 'Best Established Business with new add on'.
Each company will now progress to the next stage of their respective competitions, with 'Motorcheck' representing Fingal in the National Enterprise Awards, while 'Stayhold', 'Touchtech Payments' and 'DX2 Training' will participate in the Regional Finals of the 'Ireland's Best Young Entrepreneur' competition later this month.
Congratulating the winners, Oisin Geoghegan, Head of Fingal Local Enterprise Office said: "The recognition that our winners will receive from these awards and the resulting supports and investment will be invaluable to them, helping to create a solid platform upon which they can further grow and develop their businesses. We are predicting that all these businesses, nominees and winners, will jointly create 75 new jobs for the Capital, with the potential for many more, over the next three years."
Announced by the Government in May 2014, the Ireland's Best Young Entrepreneur competition is run through the Local Enterprise Offices and aims to promote a culture of entrepreneurship among young people. There are three categories in the competition, 'Best New Idea', 'Best Start-Up' and 'Best Established Business' with National Winners as well as 'Ireland's Best Young Entrepreneur' to be selected following National Finals in December 2015