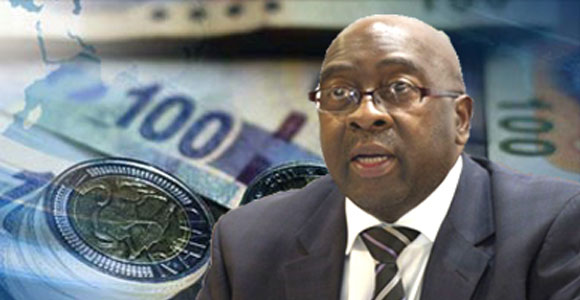 Finance Minister Nhlanhla Nene says government will reduce spending by R25 billion in the 2015/16 and 2016/17 financial year in a bid to narrow the budget deficit.
While the Minister is trying to narrow the deficit to 3.6%, he said this reduction in spending — coupled with an increase in taxes amounting to a R17 billion collection in 2015/16, and revised spending plans across government to curb waste and contain the wage bill — would narrow the deficit close to the target.
"In the budget framework tabled today, a consolidated deficit of 3.9% of GDP [gross domestic product] is projected for 2015/16, falling to 2.5% in 2017/18.
"Consolidated non-interest expenditure will rise from R1.123 trillion this year to R1.4 trillion in 2017/18, which is an average real increase of 2.1% a year," he said.
The Minister said the share of personnel compensation is projected to remain at about 40% of non-interest spending.
The reductions in spending will include:
–        Reductions to current spending by national departments of R2.3 billion in 2015/16 and R3.9 billion in 2016/17, to be achieved mainly through decreases in budgets for non-core goods and services;
–        Reductions to capital spending of national departments by R280 million (2015/16) and R911 million (2016/17), mainly on non-critical items of machinery and equipment;
–        Reductions in allocations to public entities of R2.4 billion (2015/16) and R2.6 billion (2016/17);
–        Reductions in transfers to provinces of R4.4 billion (2015/16) and R6.6 billion (2016/17);
–        Reductions in conditional allocations to local government of R921 million in 2015/16 and R1.4 billion in 2016/17. No reductions were made to the local government equitable share.
The Minister said the reductions would pave the way for spending on new projects to be prioritised.
"Spending on catering, entertainment and venues is budgeted to decline by 8% a year, travel and subsistence will be cut back by 4% a year, in real terms.
"But allocations for critical items such as school books and medicine, police vehicles' fuel and maintenance of infrastructure will grow faster than inflation. Compliance will be reported by the Auditor-General," the Minister said.
He said an unallocated contingency reserve of R5 billion has been set aside for next year, with another R15 billion and R45 billion for 2016/17 and 2017/ 18 respectively.
The Minister said while the lowered expenditure ceiling and the contingency reserve allocation accommodated new areas of spending for future budgets, he had taken into account the fact that the economic outlook is uncertain.
Weaker growth and rising interest rates were possible over the period ahead.
"We are also mindful that public service salary negotiations have still to be concluded.
"We hope that agreement will be reached in time for salary improvements to be implemented in April," he said. – SAnews.gov.za