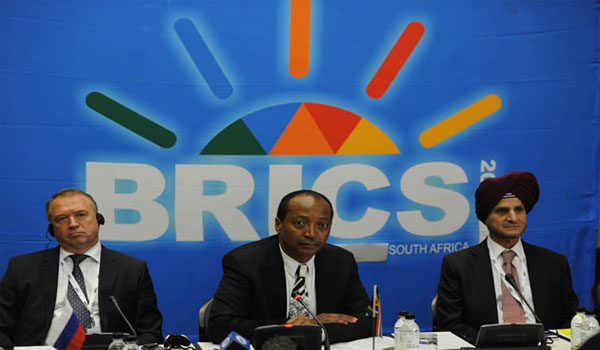 Johannesburg – The BRICS Business Council on Tuesday expressed their commitment to working together to advance development in the bloc's member countries.
In a joint statement following the first BRICS Business Council meeting held this morning, the council made several recommendations following their closed meeting on Monday.
The meeting was chaired by the chairperson of the South African BRICS Business Council, Patrice Motsepe. The Brazilian Business Council chairperson, Jose de la Rosa, Russia Business Council chairperson Sergey Katyrin, India Business Council chairperson Onkar Kanwar and China Business Council acting chairperson MA Zehua also attended Monday's meeting.
BRICS an acronym for the Brazil, Russia, India, China and South Africa group of countries.
The recommendations made include:
– Urging governments to facilitate convenience in expediting multiple entry business visas for longer periods, as well as considering a proposal to create a BRICS business travel card;
– Enhancing connectivity; and
– Creating a BRICS business portal, which will be facilitated by the BRICS Business Council Secretariat, among others.
The council also showed its backing for the establishment of the BRICS Development Bank . The council, which comprises five business leaders from all five countries, appealed to member state governments to accelerate the formation of the bank.
The council has agreed to work together in areas such as infrastructure, mining and mineral beneficiation, value-added manufacturing development, skills development and sustainable development.
The council has also agreed to promote public-private partnerships among BRICS  business and government.
In his address to the BRICS Business Council meeting in Sandton on Tuesday, President Jacob Zuma said the strength of the alliance was amplified by the fact that BRICS countries accounted for 43% of the world's population. – SAnews.gov.za