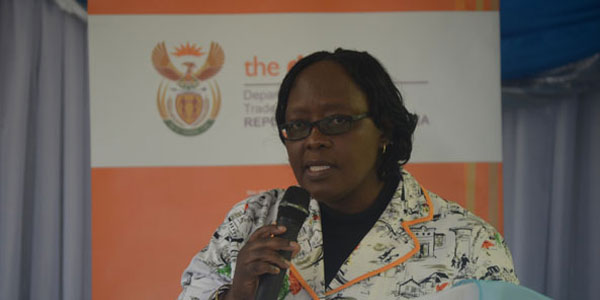 A Centre for Entrepreneurship (CEF), which will help to develop local entrepreneurs, has been launched at the King Hintsa FET College for Agriculture in Butterworth, Eastern Cape.
Launched by Trade and Industry Deputy Minister Elizabeth Thabethe, the centre forms part of the Department of Trade and Industry's programme to establish platforms with FET colleges to develop local entrepreneurs who will go on to establish and sustain viable and competitive businesses.
"Attempts have been made in recent years to provide entrepreneurship development support in a more coherent and comprehensive way. It is particularly in the light of the catalyst role it plays that the centre can develop local communities.
"The centre will continue to grow in serving entrepreneurs in this area, and serve as a hub for information and training," said Thabethe on Friday.
She said a seed funding of R3 million was allocated towards the setting up of the first phase of the centre.
"With the allocated funds, the institution needs to ensure they establish a functional system, and that they also set-up a monitoring and evaluation system."
The dti was also partnering with the University of Johannesburg to offer capacity building training for lecturers. The institution will also be expected to come up with selection criteria to identify potential candidates.
"Once all systems have been set up, we will move into the second phase, which will involve training. We are going to be linking with an incubation programme to support potential entrepreneurs and we will also link them with the Small Enterprise Development Agency for training," said Thabethe.
Director for the centre, Jomo Jacobs, said the CEF will be a valuable addition to the institution's already formidable curriculum on agro-processing studies.
"The practical studies that we will be offering will go a long way in addressing the skills shortage and lack of work experience that sees most of our unemployed and graduates struggle to secure jobs. We pledge to grow this centre into a pioneer institution in agro-processing studies," said Jacobs.
Thabethe highlighted that the main thrust of fostering entrepreneurship within the education system was to raise the realisation and acceptance of business formation as a realistic and profitable option.
"It is against this backdrop that efforts are being made to address entrepreneurship development and ensure that education is driven in such a way that business ventures can become a choice rather than a last resort for students," said Thabethe. – SAnews.gov.za