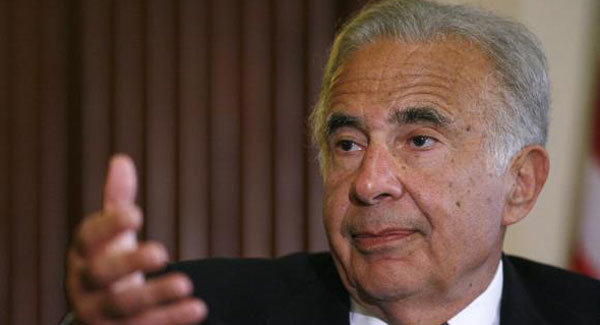 Activist investor Carl Icahn picked up another $500 million of Apple Inc shares on Thursday to take his investment in the iPhone maker to $3.6 billion, while ratcheting up his months-long campaign to pry open the company's cash hoard.
Icahn, who repeatedly has called Apple a "no brainer" even as he wages a campaign to get it to return more cash to shareholders, tweeted his latest move just a day after revealing a position of over $3 billion in the company.
In a lengthy letter to shareholders filed with the Securities and Exchange Commission on Thursday, Icahn urged shareholders to vote "yea" to his proposal for a new $50 billion buyback, and laid out familiar arguments as to why Apple should share more of its $146 billion cash hoard.
Apple's strong market position in smartphones and tablets does not justify the company's official stance that it needed to maintain reserves to compete in a fast-evolving consumer electronics industry, Icahn said.
He said the stock's price-to-earnings multiple stood 71 percent below the S&P 500's and that the shares could be worth $840 if that gap was closed. An expansion of its capital return program could help bridge that difference, while allowing the company to express confidence in its own stock.
"Even if the story ended with Apple's existing product and software lines, we would still choose to make Apple our largest investment," Icahn said in the letter.
"But there is more to the story! (CEO) Tim Cook keeps saying that he expects to introduce 'new products in new categories' and yet very few people seem to be listening."
Apple was not available for comment. But in its December proxy statement, it urged shareholders to vote down Icahn's proposal, warning that it needed ready access to cash in a fast-evolving and competitive mobile devices industry. Arch-foe Samsung Electronics has grabbed market share from Apple in past years while a host of smaller rivals like Huawei are aggressively competing in emerging markets.
Shares of Apple were up 0.6 percent at $555 in late trading.
HACKED BY SudoX — HACK A NICE DAY.